Posts: 357
Joined: Mon Sep 29, 2014 11:22 pm
Thu Apr 30, 2015 7:30 am
Hey everyone,
I've had a number of requests and PMs regarding painting technique used on my Resistance force (as seen here:
http://www.hawkforum.co.uk/viewtopic.php?f=18&t=5645
), and I thought I'd take the opportunity I had last night of painting some new Fire Wagons to share that, step by step with you guys.
I think that painting is a huge part of the fun of these games, and learning new techniques need not to be difficult nor slow. This technique that I'm aware of as 'Wash Painting' is very fast, requires little experience, and no real additional equipment.
I posted a very similar tutorial for another game, Infinity that shows the same techniques but tackling a 28mm human model:
http://infinitytheforums.com/forum/inde ... 0-minutes/
But back to DZC, Basically, I went from bare primer to the following below in about 2 hours.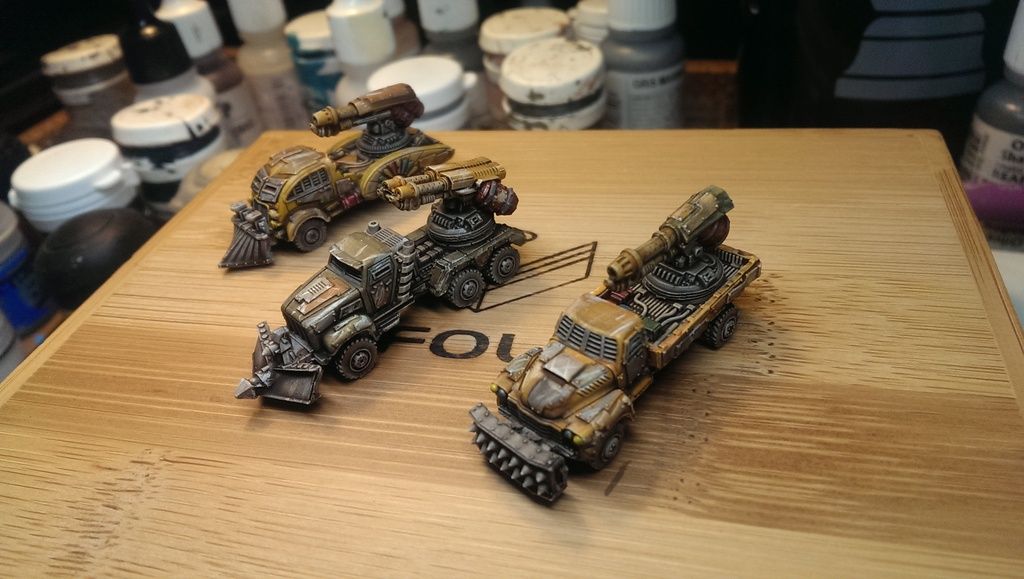 Alright, so let's begin!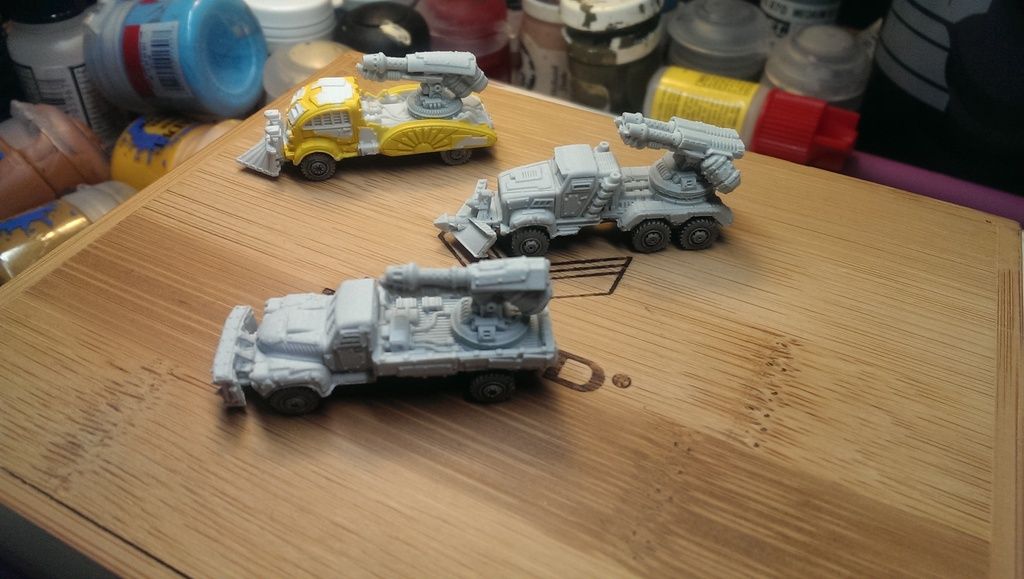 1. Wash and trim the models, and prime them white.
This is very important: White allows vivid colors to pop, and it's always much easier to darken a lighter color, than to lighten a darker color. This principle allows washing to create darker wells of color and lighter peaks with minimal effort.
Here, I also show how I do initial wash layering: By mixing a paint color with 50/50 Thinner Medium or Water (your tastes may vary in the exact amount), you can see even now a little bit of depth appearing in the yellow of that far truck.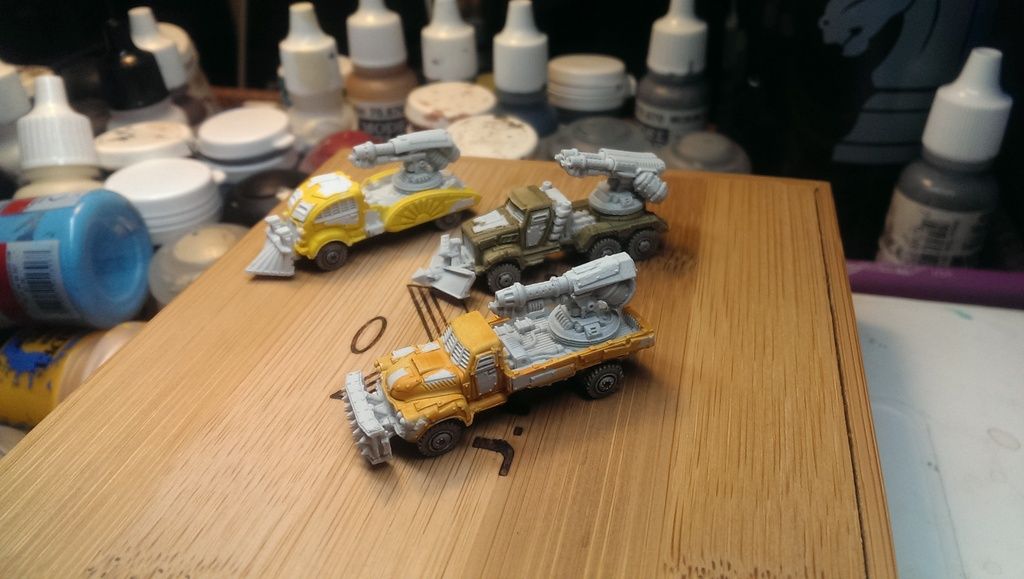 2. Adding in a few more base colors, I went to see what made sense from a design perspective. A few would be lighter colored vehicles, as befits a 'flame' unit thematically, but for realism, I decided an olive tone would help add contrast to the unit. You can see also how each color reacts when washed, some being more even than others. This is OK! Later, we're going to darken the base which smooths out uneven-ness. Also, don't worry about coloring over the lines yet.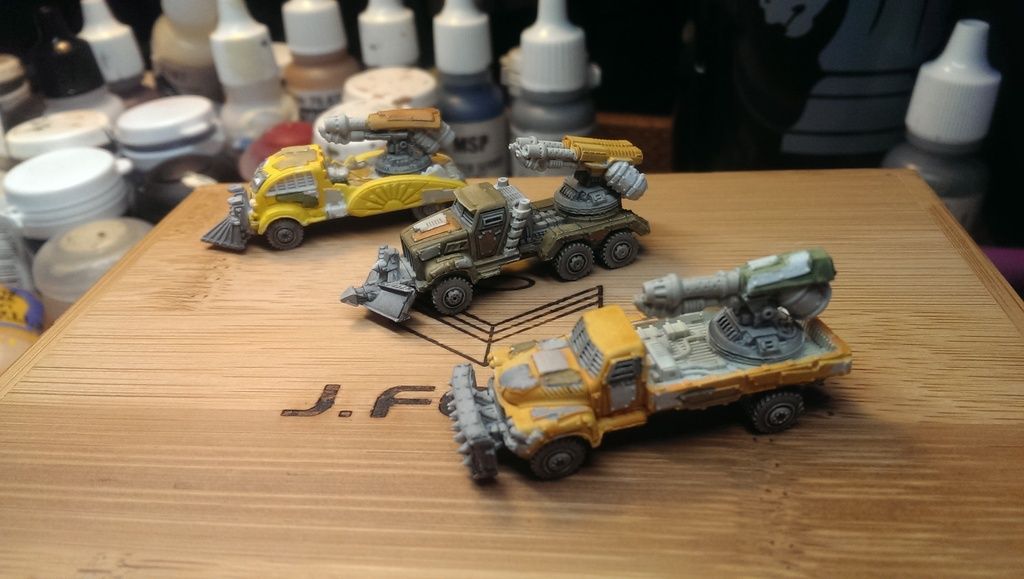 3. Adding a few more colors, I made the gun barrels of the flamethrowers actually a light sand color, very thinly washed. The reasoning is, with a few layers of darker washes later, we want the brightness to come out in a way that will exhibit a 'scorched metal' sort of tone. Grey paint elsewhere will later become 'oily and dark' metal, such as on the turret articulation for each flamethrower. Also, added basic grey (GW colors) to the plows on front of each truck.
4. At this point, we're done with colors. I put on a little contrast on each truck, to prevent them from looking 'too colored' in one direction. Note the contrasts: We put a rusty brown colored panel and a white one on top for the green truck, with grey-washed panels on the yellow one plus picking out that weird little 'sunburst' logo. I figured it made sense for it to have been an icecream truck or something utterly innoculous pre-invasion, now pressed into service as an alien BBQer. The key here is: If you make a mistake, it's ok! Just clean things, and wash on new colors until you're reasonably satisfied with the diversity of brightness. We're going to darken the hell out of it next using a dark wash over this light base.
Also, as a personal preference, I use Sand colored very fine streaks to represent scratches and dings at this stage.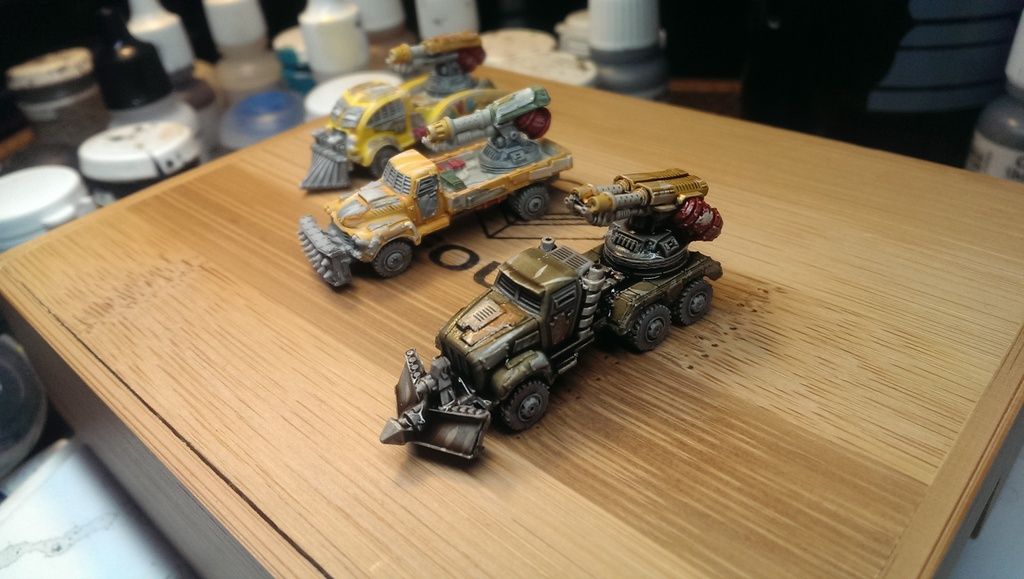 5. Here, I darkened all of the olive truck with a pre-made wash instead of one of my mixes, but you can do either: Using GW Agrax Earthshade wash, I covered the entire surface of the truck, making it all a more specific tone of brown. It unifies the colorscheme by putting every color through basically a filter, and fills in the crevices with a deep color.
The gun itself and a few other elements I want as a more burnt tone recieve Sepia instead. This is a very fast process, less than 5 minutes for the entire set of 3 trucks.
6.
Here's what the 'rainbow and yellow' truck looks like after washing. Note the gradient that forms by simply having wash naturally pool down from gravity, over a tan-colored surface. If wash pools unevenly or in a way you don't like, don't worry! Just dry your brush and then touch it to the surface. Excess wash will be absorbed by your brush, which you can then clean off later.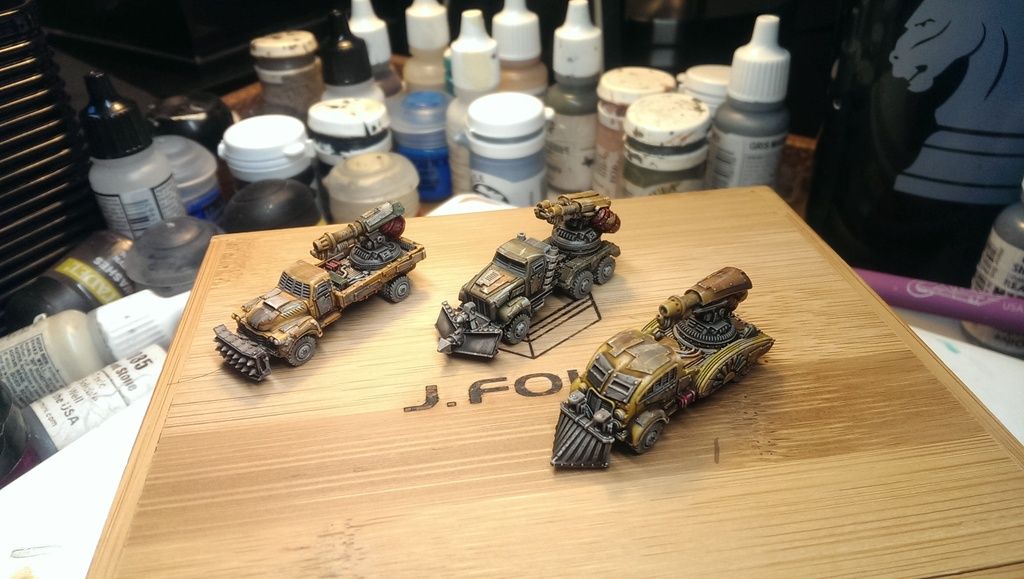 7. Wash is dry now, and we're almost done! Note how on the nearest truck, washing simply sepia and brown over a sand-like color has produced the 'yellow-to-orange' tip of that flame cannon. On the middle truck, note how earthshade wash applied over a simple grey washed surface has already formed natural crevices.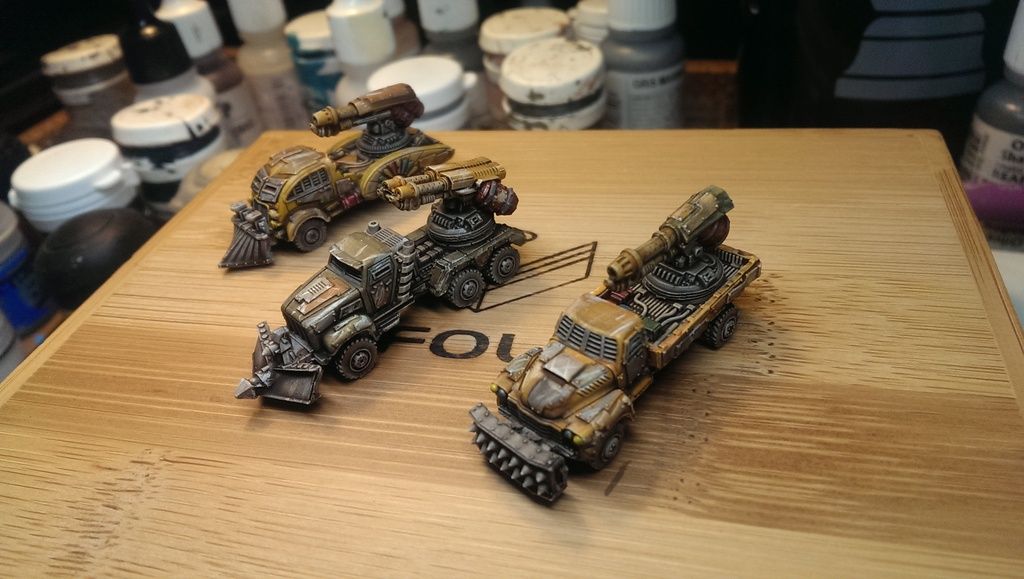 8. Cleaned up a few areas where we missed, and picked out some edges with fresh sand-colored highlights. This way, we have both 'faded' scratches and highlights (our earlier sand-colored pickings out that have since been washed) and 'fresh' ones that we just added, creating the illusion of weathering and depth. The 'grey' panels also recieve some too, making them look naturally metallic despite being just grey washed paint, earthshade, and some sand colored highlights. Also, picking out tiny details left such as the headlights and we're done in just around 2 hours!